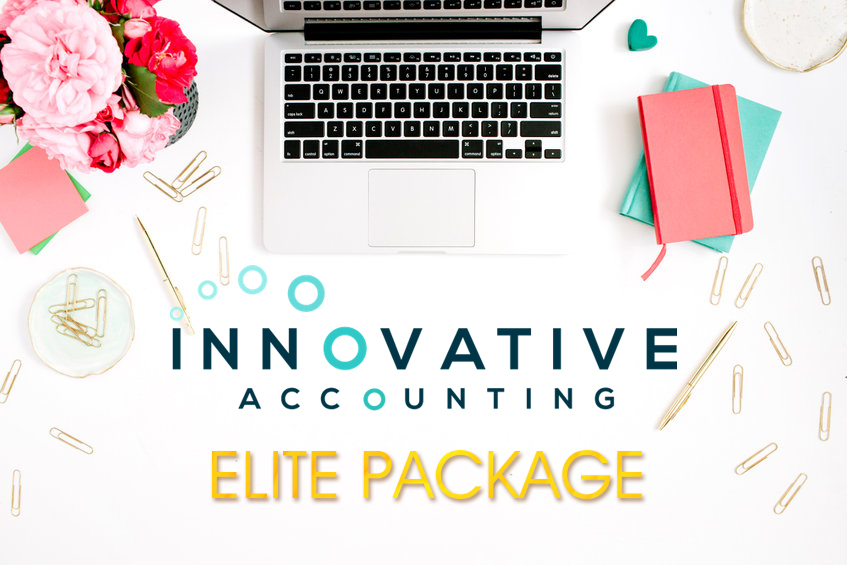 We offer different packages depending on the size of your business, your needs, and your budget. We understand that small businesses are tight on cash and need to watch their expenses, so our Starter Package gives you what you absolutely need to ensure you have accurate financials.
As you are growing, you will need more information to make smart business decisions and strategies to save money on your taxes. For growing businesses, our Standard & Elite Packages provide advisory services that fill these needs, eliminate stress, and save you time.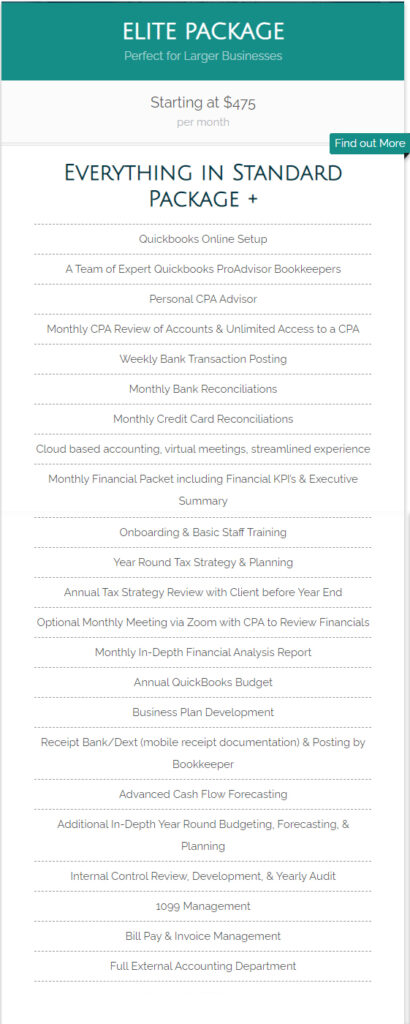 QuickBooks Online Setup: New companies get all Quickbooks initial setup included, not including historical transactions
A Team of Expert Quickbooks ProAdvisor Bookkeepers: All bookkeepers have went through extensive training and are Certified Advanced QBO ProAdvisors
Personal CPA Advisor: Every account has a CPA who is available for questions via email or phone
Monthly CPA Review of Accounts & Unlimited Access to a CPA: Every month a CPA reviews all transactions in your account for accuracy, and a CPA is available to schedule unlimited meetings, provide advisory services, and develop custom reporting, analysis, scenario planning, etc.
Weekly Bank Transaction Posting: We post your transactions weekly and follow up with you on anything we need your input while it is still fresh in your mind
Monthly Bank Reconciliations: We reconcile your bank accounts in Quickbooks to your bank statements monthly
Monthly Credit Card Reconciliations: We reconcile your credit card accounts to your bank statements monthly
Cloud based accounting, virtual meetings, streamlined experience: We work with all cloud based systems and automate as much of the process as possible so that you can spend your time on what matters – your business
Monthly Financial Packet including Financial KPI's & Executive Summary: Each Financial Packet includes an Executive Summary by your CPA with their opinions on your financial performance as well as KPIs (Key Performance Indicators) that are important to your business
Onboarding & Basic Staff Training: Onboarding is included at no additional cost, and we are available to help your staff master basic QuickBooks tasks with customized training, instructions, and tutorials provided when needed
Year Round Tax Strategy & Planning: Year round planning for next year's taxes and access to CPA for any tax questions as well as access to a tax dashboard to see what your tax liability will look like during next year's tax season so you won't be surprised
Annual Tax Strategy Review with Client before Year End: We build a Tax Strategy report for you in the autumn and meet with you to go over tax estimates for the upcoming year and identify strategies that you can use to lower your taxes before year end
Optional Monthly Meeting via Zoom with CPA to Review Financials: Optional remote meetings to ask us any questions you may have and review your financial performance
Monthly In-Depth Financial Analysis Report: We send you an in-depth Monthly Financial Analysis Report that analyzes all relevant KPIs for your company and compares your performance to your budget, previous year, or targets including optional customized KPIs specific to your business
Annual QuickBooks Budget: We develop and import an annual Budget for your company, one of the most important factors of successful businesses, and include Budget vs. Actual reports with your Financial Packet each month
Business Plan Development: We help you develop an investor ready Business Plan
Receipt Bank/Dext (mobile receipt documentation) & Posting by Bookkeeper: We set you up with a mobile app that sends your receipts to Quickbooks by taking a picture with your mobile phone
Advanced Cash Flow Forecasting: We create advanced cash flow forecasts to identify future issues with cash flow and prepare in advance along with cash flow dynamic dashboards you can use to monitor your cash flow at any time, including scenario forecasting
Additional In-Depth Year Round Budgeting, Forecasting, & Planning: Unlimited forecasts, specific budgets, and scenarios available using an intensive forecasting software, custom dashboards allow you to monitor every facet of your business and forecast every possible scenario you can imagine
Internal Control Review, Development, & Yearly Audit: We review your internal controls around cash receipts, bank and credit card access, and other accounting functions performed by your staff that could result in liability, loss, or fraud and recommend solutions to mitigate these risks
1099 Management: Develop processes to keep up to date W9s and records for 1099 contractors, monitor compliance, and issue 1099s annually. 
Bill Pay & Invoice Management: Handle bill payment as needed or on a regular schedule, oversee invoicing, and reconciliation of A/R & A/P to accounting General Ledgers and reports, includes reconciliations between external software. 
Full External Accounting Department: We take over the normal functions of an internal accounting department, with additional staff from our team dedicated to your weekly and monthly work. This entails more frequent meetings with the client's staff to coordinate the interactions and flow of information between the client's staff and us. We assist in developing processes for our clients to continually work on providing better, more efficient accounting & reports. It also includes developing, maintaining, and running unlimited custom reports on a weekly, monthly, quarterly, or annual basis, and identifying ways to provide more accurate or useful reports, such as reporting by business class/location/revenue type, weekly cash flow reports, gross profit by job, etc
Our goal is to find out what you are looking for and then show you how we can make that happen. We'd be happy to answer any questions you might have, so please don't hesitate to get in touch with us below.